Carleton Watkins
Stereoviews

Series of 10
stereoviews by Carleton Watkins, from mid 1860s.

---
Stereoviews

Stereoviews, or stereocards or stereographs as they were often called, were the rage in the USA and
Europe after about 1851. Popularized by the introduction of the stereo viewer (invented in 1859 by,
of all people, Oliver Wendell Holmes), stereoviews were to be found in virtually every home
by the end of the century. Of the millions of cards produced, only a handful remain rare.
Rarity, obviously, is determined by such criteria as subject matter, historical circumstance,
photographic process, photographer, publisher or availability. The cards presented here tend to fall into
more than one of the categories of rarity.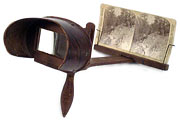 All photographs presented here are authentic and original stereoviews.
Please contact the Gallery for questions or comments.